"My mind says: there is nothing there, Astrid! But my heart says: oh, but maybe there is!"
Late winter and early spring can be a difficult time for a mushroom hunter in Washington State. The chanterelles are gone, the morels not here yet, and even when they do pop up, it won't be in our neighborhood. That means it can be a full 5-6 months with no edible mushrooms in our local forest. So what to do, when you like to go walking in the woods, gather treasures and bring them home to cook? You forage for wild edible plants!
Foraging basically means that you gather your own food, these days it often applies to plants and mushrooms but it also includes fishing and hunting. We like to see what we can find, we will pick just a little bit and bring it home for further identification, just as it is with mushrooms, it's very important to be sure of what you are picking when intending to eat foods from the forest! We started slowly last summer, got a good book on it in the fall and have been really excited about what we have identified and found this early spring.
Here is what we have found: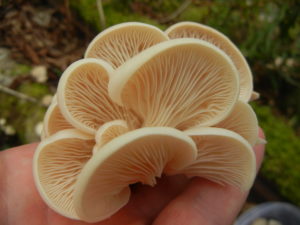 For more inspiration and entertainment read: Fat Of The Land by Langdon Cook
For knowledge on how to forage read: Pacific Northwest Foraging by Douglas Deur
Disclaimer: This information is not intended as a use of reference or as an identification tool. It is purely to be used as entertainment.